Last Updated on by Tree of Wealth
The Singlife Essential Critical Illness is a standalone Critical Illness term insurance that covers Death, Terminal Illness, 14 Critical Illnesses, Total and Permanent Disability, and 4 Diabetic Conditions during the protection term.
It is a term insurance that covers even with existing health conditions of High sugar Type 2 Diabetes, Pre-diabetes and the 3 Highs of High blood pressure, High cholesterol and High Body Mass Index (Obesity):
High Sugar (Diabetes Type 2)
High Cholesterol
High Blood (Hypertension)
High BMI (Obese)
There is also a reduced health checklist with only 6 questions and no medical check up needed (provided all conditions are up to date and does not require further medical underwriting), along with coverage for Type 2 Diabetic Smokers.
There is also an increase in the number of Critical Illnesses (CI) from 11 to 14 CIs. The three new CIs are:
Deafness (Irreversible Loss of Hearing)
Major Head Trauma
Severe Bacterial Meningitis
Product Features and Benefits at a Glance
Singlife Essential Critical Illness
Coverage term
Minimum of 15 years term, maximum age 85
Total Covered Critical Illnesses

14 conditions

Major Cancers

Heart Attack of Specified Severity

Stroke

Blindness (Loss of Sight)

Coronary Artery By-pass Surgery

End Stage Kidney Failure

Other Serious Coronary Artery Disease

End Stage Lung Disease

Irreversible Loss of Speech

Major Burns

Deafness (Irreversible Loss of Hearing) *New*

Major Head Trauma *New*

Severe Bacterial Meningitis *New*

Angioplasty & Other Invasive Treatment For Coronary Artery

No Claim Payout
20% of total premium paid after end of policy term
Diabetic Conditions Covered
Coma due to Hyperosmolar HyperglycemicState (HHS)

Diabetic Ketoacidosis

Diabetic Nephropathy

Limb Amputation due to Diabetic Complications

20% of Sum Assured up to 25,000 Upon diagnosis of any of the 4 Diabetic Conditions covered

Special Conditions Covered
N/A
Death/ Disability Coverage
Full sum assured
Entry Age
Age 25 Next Birthday
Last Entry Age
Age 65 Next Birthday
Coverage for Smokers
Yes
Diabetic Diagnosis Below Age 25
Not covered
Type 1 Patient
Not covered
Premium Loading
Premium varies depending on sugar level, high blood level , BMI, cholesterol and Triglycerides Level
Max Sum Assured
500,000
You may be interested: Best Diabetes Insurance Plans Singapore
Interested to learn more?
Fill in the form below and we will get back to you!
How Singlife Essential Critical Illness Works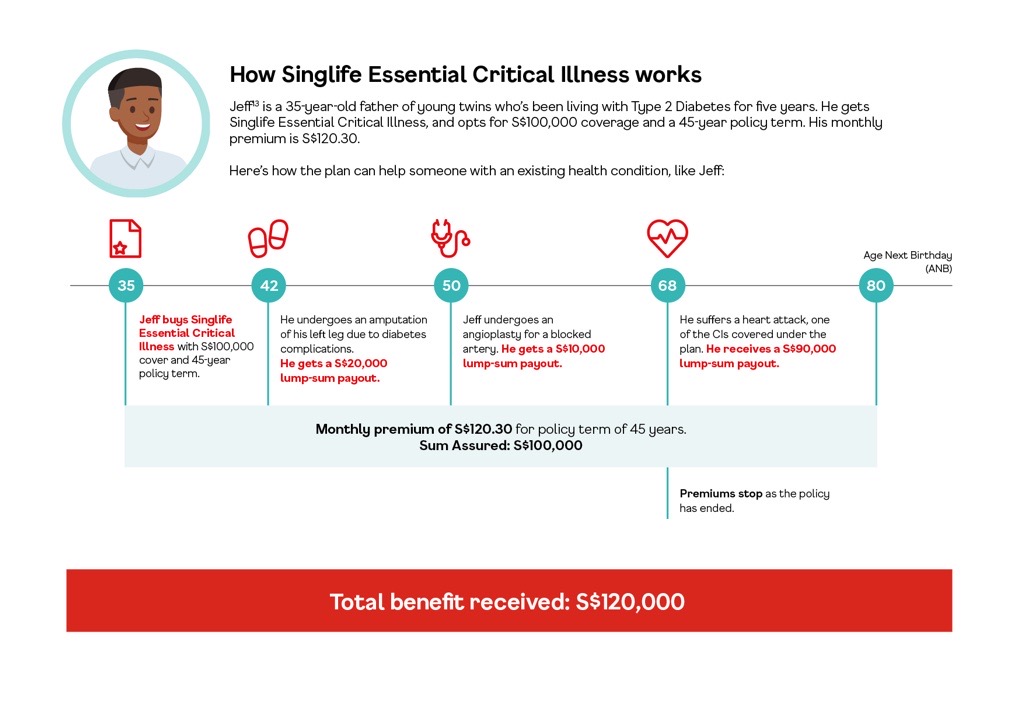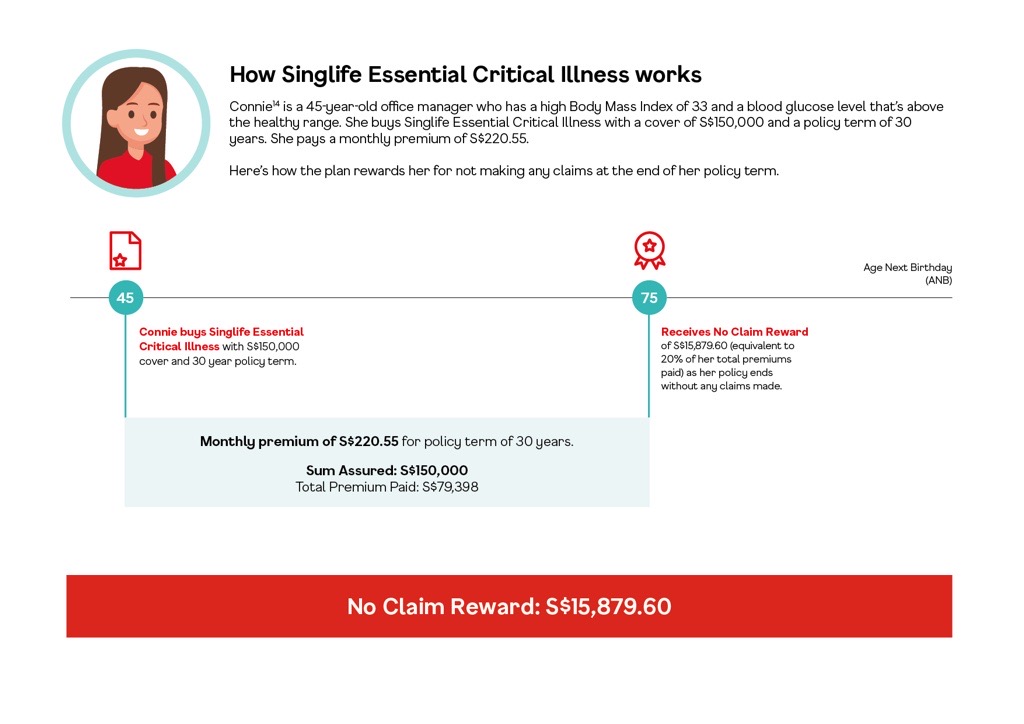 Singlife Essential Critical Illness is suitable if you:
Are diagnosed with Type 2 Diabetes, Pre-diabetes, High Body Mass Index (BMI) Obesity, High Cholesterol and/or High blood pressure
Coverage for Death, Terminal Illness, Total and Permanent Disability (TPD), Critical Illness and Diabetic Conditions
Want to be covered for Diabetic Related Conditions and Complications (suitable for people without Diabetes/Obesity & High blood pressure as well)
It would however be less suitable if:
You are looking for limited pay premium term and coverage for life.
You would like cash value in a protection plan.
You want to include Critical Illnesses of all stages coverage from Early to Advance Stage.
A Wealth Growth Endowment plan
Single premium, One-Time Premium Term
Cash Payouts regularly
Conclusion for Singlife Essential Critical Illness
Singlife Essential Critical Illness is a plan that primarily covers for people with pre existing diabetic (smokers included), high blood, high cholesterol and obesity conditions.
To find the most suitable coverage, simply fill in the form below and our friendly licensed FA advisor will get in touch with you. Based on your needs, a custom made solution will be adjusted only addressing your concerns.
No obligations, no hidden fees. All advice are of no charges.