Last Updated on by Tree of Wealth
Singlife with Aviva has a well suite of protection and coverage products, ranging from their term insurance to whole life plans, as well as the very comprehensive Multiple Payout Critical Illness Plan (My MultiPay CI) able to square off most insurers (check our review for that). Not to mention they have one of the most competitive premiums in the market as well.
Product Features and Benefits at a Glance
High sum assured at a low premium cost for Death, Total Permanent Disability (TPD), Terminal Illness and Critical illness (CI) of all stages including Early CI and MultiPay CI.
Very flexible – Wide range of premium term from a minimum of 5 or 10 for renewable term. Or 11 years onwards up to 85 years old with a year of interval in between (12, 13, 14 years etc..)
Guaranteed Renewable Option (GRO) – For 5 and 10 years policy term, GRO renews your policy at the end of every 5 or 10 years automatically. No medical questions or health underwriting needed.
At Key Life Events, have the option to increase coverage of your basic protection coverage without the need of medical underwriting nor providing any proof of insurability, guaranteed:

Key Life Events:

Change of marital status (Marries or divorces)
Becomes a parent – newborn or legal adoption
Graduates from Tertiary Education
Purchases a property

Convert the MyProtector Term II insurance into an Endowment or Whole Life insurance without medical underwriting.
Interim Accidental Death Benefit
Additional Supplementary Benefits (Riders) to Enhance Your Coverage
Covers for Life
Total and Permanent Disability
Advance Stage Critical Illness
Early Critical Illness Cover II – Covers from Early To Advance Stage Critical Illness (Single CI Payout)
MultiPay Critical Illness (CI) Cover IV – Pays out Early to Advance Stage CI multiple times up to 900%
Premium Waiver Riders (coverage during premium term)
Critical Illness Premium Waiver
Payer Critical Illness Premium Waiver
Payer Premium Waiver Benefit
Illustration on Premium for Singlife with Aviva MyProtector Term Plan II
Male, Non-smoker, aged 35, premium is rounded up to nearest cent.
 
Policy

Term

Sum Assured
Daily Premium
MyProtector-Term Plan II
35 years
$1, 500, 000

$4.78
Total Permanent Disability
35 years
$1, 500, 000

$0.78
Multipay Critical Illness
35 years
$250, 000
$8.25
Total
$13.81/ day
Source: Singlife with Aviva
How Singlife with Aviva MyProtector Term Plan II Works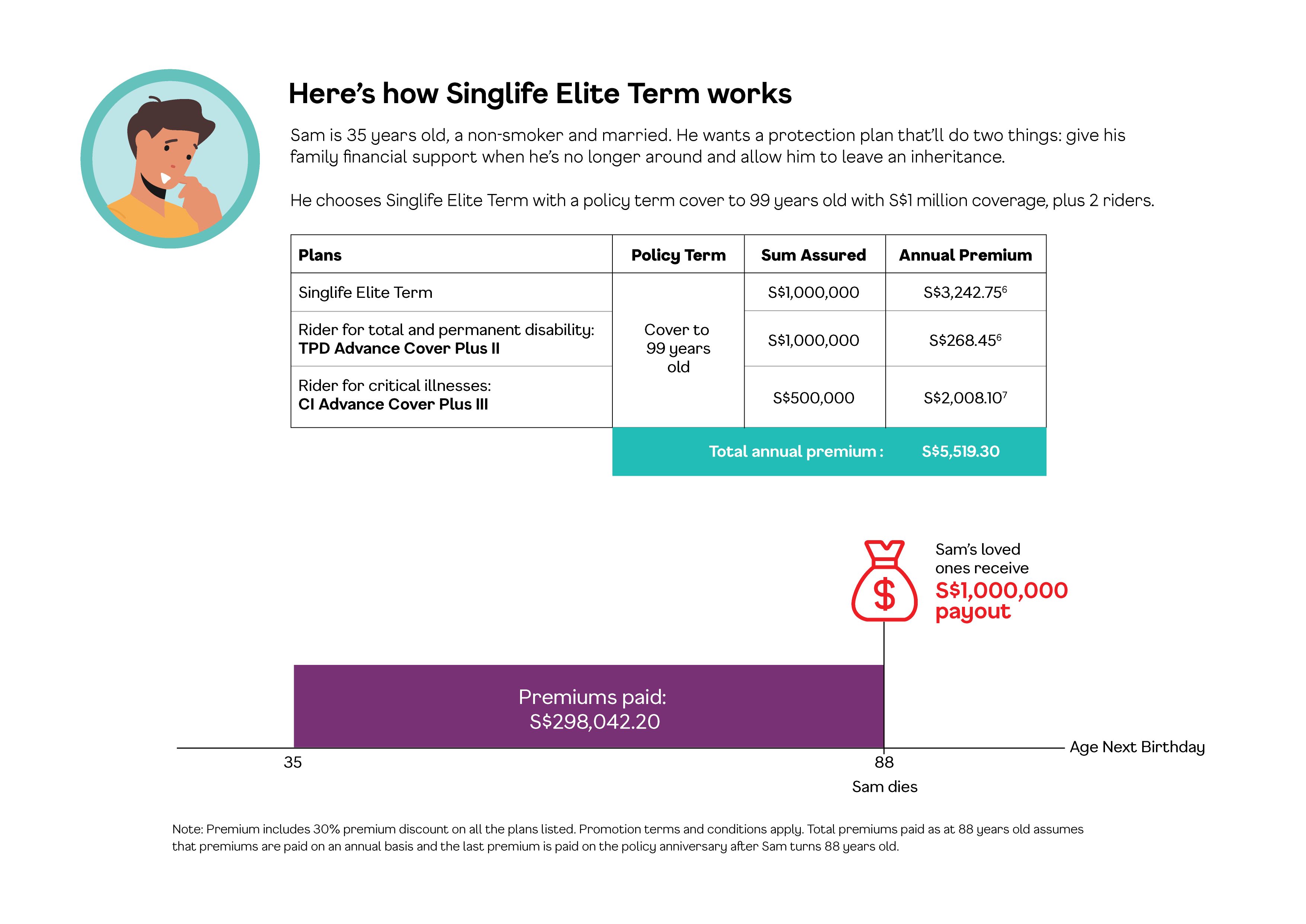 What We Like About the Singlife Elite Term
Very affordable and competitive premium pricing in the market.
Flexible coverage periods and renewable term.
Wide range of comprehensive riders to FULLY customize your coverage.
Perhaps the most important reason on Aviva's term and whole life insurance – Early CI and MultiPay CI riders are available to add on to this term plan.
Singlife Elite Term​ is suitable for you if you would like:
High Payout that covers Death, TPD, Terminal Illness, Critical Illness of all stages including Early to intermediate to advance stage for a low premium.
Multiple Payout for CI across all stages including Early to intermediate to advance stage for a low premium.
Comprehensive term insurance that covers you for a specific period of time, increasing the coverage protecting your prime working age when you need it the most.
It would however be less suitable if:
You are looking for limited pay premium term and coverage for life.
You would like cash value in a protection plan.
Conclusion For Singlife Elite Term In-Depth Review
As with all term life insurance plans, the suitability of this plan for you will largely depend on your needs and expectations. There are many term insurance plans in the market with many strong Insurers. Which one suits you the most?
To find the most suitable coverage, simply fill in the form below and our friendly licensed FA advisor will get in touch with you. Based on your needs, a custom made solution will be adjusted only addressing your concerns.
No obligations, no hidden fees. All advice are of no charges.